Photo: By courtesy of the Ranu Walum Foundation
This mail reached me from Indonesia, Borneo (Kalimantan) today:
"A friend of mine took pictures in Borneo, but is already back after a week, because she also got lung disease. The same thing happens in Sumatra and the government is silent and sends no help and there are now the first big protests in Jakarta. All flights to and from Borneo cancelled. The people urgently need masks so that they can survive. Dayak organizations are now collecting money for this, otherwise everyone will suffocate:"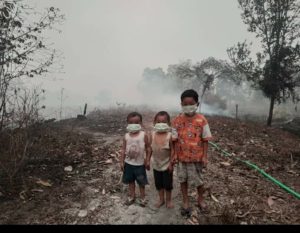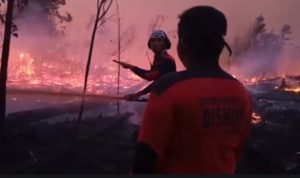 Photos: By courtesy of the Ranu Walum Foundation
CALLING OUT FOR REAL ACTION
http://www.ranuwelum.org/news/urgent-action-is-needed-now
While opening our four Shelter in Palangka Raya for public, everyday we go to areas outside the capital city Palangkaraya in Central Kalimantan, these areas are that strongly affected by the haze because of forest fire but not everyone is accessible to getting health protections and even to buy proper masks. The air quality is very poor, but not everyone use proper mask to protect themselves, that's why us, that are more accessible to it needs to #act2give – distribute the masks we got from the donations we received.
2322 Hotspots:
http://modis-catalog.lapan.go.id/monitoring/
We really need thousands of N95 mask, milks, vitamin for the people here. If you want to donate here is the link http://www.ranuwelum.org/donate
Or if you want to talk to us personally how to join this effort, please contact me, I'm the coordinator of Youth Act. Here is my number +6289623741236
With partnership and collaboration, all is possible. This is the best time to give, as we are fighting not only for the DAYAKS or KALIMANTAN but for this planet, for Al of us!
Please share this message.
Thank you.
TABE